Jamés Treble Booster MkII
It would be nice to say "Ah, the one that started it all," but that would not be true. This is the Mark II version. This is an improvement over the older version - a toggle switch to change the tone has been added. The components are better too, and the colour has been changed to blue.
Jamés Treble Booster MkII contains only high quality components and is true-bypass. This pedal has an AC128 germanium transistor. The toggle switch changes how the pedal reacts. It would be silly to say that the switch is for single coil or humbuckers, as this defeats the whole purpose of pedals - to experiment and make your own interpretation. We have decided to say that the switch changes the tone. Simple as that!
The pedals come in a fetching light blue aluminium enclosure with rubber feet. There is only one knob - this dials in the gain. This is a slightly modified reproduction of the classic Treble Booster of the 1960s. We find that it works best with a valve amplifier which is being driven hard already, but how you use it is really up to you. Modern players take note: one of the best tones we have heard was using an ESP Eclipse with EMGs, a Jamés Treble Booster at near maximum and a cranked Marshall rack amplifier. Pure metal heaven!
Soundclips (wav is higher quality; both are the same clip):
Homemade Tele: maple neck, mahogany body, Fender Classic 50s pickups wav mp3
Gibson Les Paul Jr DC with Bare Knuckles P90 wav mp3
Edwards Les Paul copy with Seymour Duncan humbuckers wav mp3
Homemade 60s Strat with Fender Fat 50s pickups wav mp3

All played through a Marshall JCM900 50W High Gain Master Volume, Marshall 1936 2x12" cab. Recorded with a cheap microphone at low volume. These clips will be updated with better ones later!
Some pictures: (with apologies for poor photographic skills. And fingerprints!)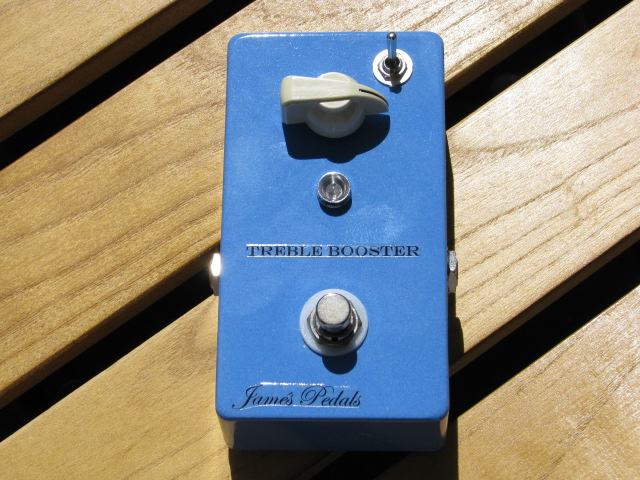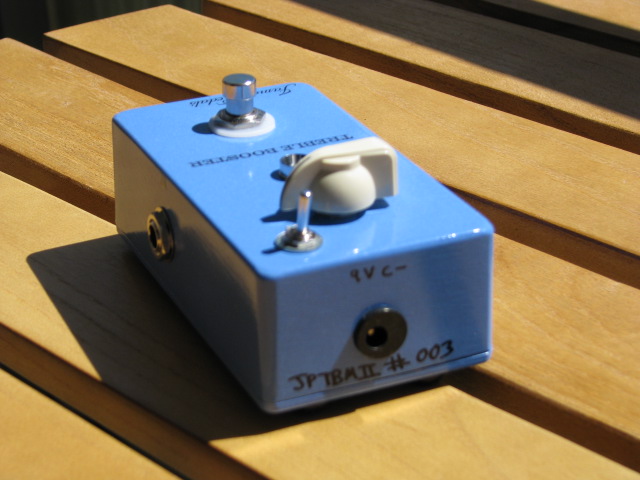 None in stock at the moment. Time from order to delivery approx. 6 weeks.
Price including delivery:
800kr in Sweden
900kr for the rest of Europe
950kr for the rest of the World (note: customs charges may be added - these costs are not included)

All prices are in Swedish Krona (SEK).